Lough Boora – Sculpture Loop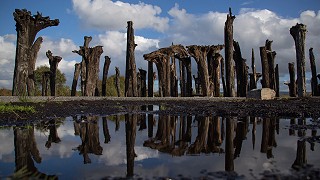 Distance: 3km / 1hr
Services: Kilcormac (6km)
Trail Grade: Easy
To suit: All levels of fitness
Terrain: Bog road & sandy track
Min. gear: Walking shoes, fluid
Lough Boora Parklands host some of the most innovative land and environmental sculptures in Ireland. The artists, inspired by the rich natural and industrial legacy of the bog lands, have created a series of large-scale sculptures that are now part of sculpture in the parklands permanent collection. A paradise for outdoor enthusiasts interested in its unique flora and fauna, now enhanced by innovative works of art that change with the weather, through the seasons and the years.
Industrial materials of the bog, such as locomotives, rail line, timber and stone have been developed into magnificent sculptures. Over time with the effects of nature through the different seasons, some of the sculptures have altered in colour and developed wonderful colonies of plant growth becoming once again part the landscape.
Trail Directions
A-B Start from the Car Park opposite the bird hide on Cycle Path Road. The trailhead is marked by a map board. Cross the wooden footbridge and follow the sandy path for 200m to cross over the embankment and descend to the standing timbers sculpture.
B-C Take the narrow sandy track which veers to the right around the back of the large stone Boora Pyramid.
C-D From the pyramid continue along the sandy track through bogland and past a series of unusual sculptures created by artists in this unique landscape of cutaway bog. The end of this section is marked by a metal footbridge over Crooked Brook.
D-E After the footbridge, the sandy pathway swings right and follows Crooked Brook for 200m - an old turf (peat) train is permanently parked high on an embankment on your left. Turn left, climb the embankment past the front of the train, and turn left onto the sandy path keeping the lake on your right.
E-A After 200m you exit at a small car parking area onto Cycle Path Road. Turn right here - the trailhead is only 200m away.
Directions to Lough Boora trailhead
From the town of Kilcormac (on the N52 between Tullamore and Birr), take the N52 following the signposts for Tullamore. As you leave the town turn left after crossing the bridge over the Silver River. Follow the riverside roadway for 300m to reach a T-junction where you turn right. After 6 km the trailhead is on your left opposite a wooden bird hide.
Note: The trailhead is signposted from Kilcormac.