Discover Slieve Bloom
Explore the Slieve Blooms…
the Land of Fionn McCumhail
The gentle rolling hills of the Slieve Bloom Mountains rise from the central plains of Ireland, forming a natural link between the counties of Laois and of Offaly. The area is picturesque, peaceful, gloriously multi-coloured and one of the least explored in Ireland. Dotted around the mountains are quaint little villages, and to visit one is like stepping back in time to an era when life moved at a slower pace. These are the places where people will take the time to talk to you, will listen to your stories and enjoy telling you theirs. According to the locals the Slieve Bloom have everything, except the sea!
Just over an hour from Dublin and Limerick and two hours from Cork and Galway the Slieve Bloom are easily accessible from all corners of Ireland. However, as well as being a wonderful destination in their own right, their central location makes the area an ideal base for visitors wishing to make trips to other parts of Ireland.
The Slieve Bloom, along with the Massif Central in France, are the oldest mountains in Europe; they were once also the highest at 3,700m. Weathering has reduced them to 527m. On a clear day, one can see the high points of the four ancient provinces of Ireland.
Hike the Irish wilderness, Horse ride off the beaten track, Mountain bike Ireland's most challenging routes, Golf the scenic countryside or Fish for your supper… dive into the sections below to see what a diverse range of activities & attractions the Slieve Bloom region has to offer.
What's on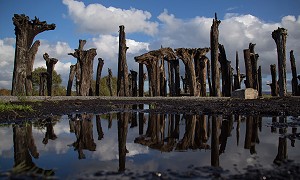 Every Sunday
Weekly Walks around Slieve Bloom
Walks are open to members and non-members. Why not enjoy walks every Sunday throughout the year. The fee is €5 per per walk.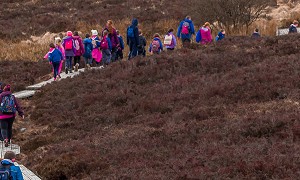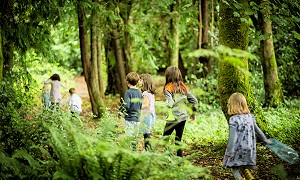 2023
Slieve Bloom Walking Festival
Join us on our Slieve Bloom walking Festival on May Bank Holiday weekend to experience and appreciate all the beauty of nature around us in the Slieve Blooms. See our Festival Calendar for details of the Festival walks.
-