Glenregan Loop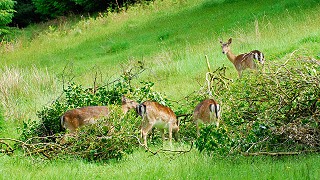 Distance: 11k/3 hours
Services: Kinnitty 5k
Trail Grade: Strenuous
To suit: Higher than average level of fitness
Terrain: Forestry Road
Trail maintenance: enquiries@slievebloom.ie
Trail Directions
A-B Cross stone step into forest. Almost immediately turn right onto narrow gravel path, crossing two forest roads. All the time climbing steeply. Magnificent views over Glenregan. At third forest road veer right for approx 300m.
B-C Turn left, uphill and pass by site of Glinsk Castle (stone pillars and walls). On Joining forest road turn right. Keep straight on at next junction. Continue on for approx 2km to reach tar road, close to the limekiln. Veer left, and follow road for approx .5km to forest barrier.
C-D Turn right, by barrier into forest. Pass by ruins of old house. Follow path down hill, crossing a forest road. On reaching a second forest road turn left. The Camcor river is close by at this point (on your right). Walk D along road, over river to junction.
D-E Take road stright on (with river on right) for approx 100m. Turn down grassy path. Cross foot bridge over stream and on to join forest road. Veer right (Straight). Follow this forest road with the Camcor river away to the right. After approx 1.5km you meet another forest road. Keep on straight to reach river.
E-F Approx 100m after crossing river turn right under the big 1935 planted sitka spruce. Follow steep path up hill to forest road. Turn left and out to tar road. Lovely view over Forelacka from this point. Turn right (up hill) on tar road, then immediately left into another forest road which you follow for approx 1km, untill turning down hill and back tp the start.
Directions to the Trailhead
From Kinnitty village, take the R440 road. On the edge of the village, the road forks. Turn right at this fork and continue for 2kms. You will cross the Camcor river at the Coneyburrow bridge and the car-park is a little further on up the hill on the left hand side.
Glenregan is located in Co. Offaly in the heartland of the Slieve Bloom Mountains. The valley from which Glenregan gets it's name lies between Stillbrook Hill and Wolftrap Mountain. Glenregan was originally part of the large Kinnitty estate. The forest is on both sides of the Camcor River valley and spans large blocks of forest. The forest envelopes both sides of the Camcor valley and offers great views over the valley onto west Offaly and the River Shannon. The walks and trails in this area are through mountainous terrain and can feel quite remote despite being reasonably close to the R440. There is an extensive network of forest roads for walking and trekking. The Slieve Bloom Way goes through the car-park and can be easily accessed from this point. It runs west to Castle Bernard (Kinnitty) and eastwards to Cadamstown from this point.