Glinsk Castle Loop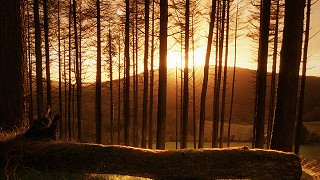 Distance: 6.7km / 3hrs
Services: Kinnitty Village (3km)
Trail Grade: Moderate
To suit: Medium level of fitness
Terrain: Mix of forestry tracks and woodland walks
Min. gear: Walking boots, fluids, snacks
Trail maintenance: enquiries@slievebloom.ie
Trail Directions
A-B Start from Kinnitty forest entrance 3km from the village. After 30m keep left at the Y-junction of forestry roads following the blue arrow. You are also following a green arrow for the shorter Kinnitty Castle Loop and yellow arrow for the long-distance Slieve Bloom Way. After a little more than 1km you reach a 3-way junction with a wooden gate on your left. Through the wooden gate will take you into the grounds of Kinnitty Castle – well worth a visit.
B-C Your loop turns right (uphill) here, and continues to ascend along a forest road for almost 1km before rounding a right bend and reaching a Y-junction. Veer to the right here - still following the Slieve Bloom Way and the green arrows.
C-D After 500m turn left onto an uphill woodland trail – the shorter green loop continues straight on here. You follow the blue arrow and the Slieve Bloom Way.
D-E This path takes you through mature woodlands to exit on a forestry road where you turn right. About 200m afterwards you turn left at a 3-way junction and, almost immediately, veer left again at another junction. You are still also on the Slieve Bloom Way.
E-F Climb the hill and, after 500m take a right at a junction. After 600m you leave the Slieve Bloom Way - taking a right turn onto a faint woodland trail to the ruins of Glinsk Castle (stone pillars and walls).
F-G Follow the trail through the pillars, over the brow of the hill, and downhill through trees to rejoin the Slieve Bloom Way at a forest track. Turn right here.
G-H After 200m turn left onto a downhill forestry trail.
H-A Continue to follow the loop on its downhill journey throught magnificent mature trees. Cross two forestry tracks to exit at the trailhead.
Directions to the Trailhead
From Kinnitty Village, take the R421 following the signposts for Mountmellick. After 200m veer right onto the R440 (signposted Mountrath). Continue along this road for 3km to reach the entrance to Kinnity Forest on your left. Note: The trailhead is signposted from Kinnitty.
Situated close to the geographical centre of Ireland, the Slieve Bloom region links the counties of Laois and Offaly and is made up of forests, blanket bog of a type which is unique to Ireland, and hidden valleys which will be of interest to lovers of archaeology and nature. In 2007, a series of looped walks were developed at various trailheads in the region following a mix of forest tracks, riverbanks, old roadways, and grassy trails. There are a few rough and rugged sections - but they rarely rise to high altitude and do not demand great stamina. This loop is one of three which start and finish at the Kinnitty Forest trailhead - key features include the grounds of Kinnitty Castle (now a hotel), the ruins of Glinsk Castle, and spectacular broadleaf woodlands.