Old Mill Loop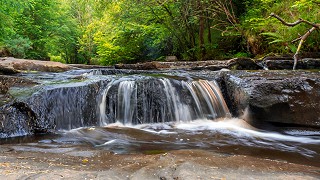 Distance: 10km / 3 hours - 3 hours 30 mins
Services: Clonaslee (7km), Rosenallis (5km)
Difficulty: Strenuous
Terrain: Mix of frestry paths, woodland tracks and riverside trails
To suit: Higher than average fitness levels
Min. gear: Walking boots, fluids, snacks, hiking clothing
In 2007, a series of looped walks were developed at various trailheads in the region following a mix of forest tracks, riverbanks, old roadways, and grassy trails. There are a few rough and rugged sections - but they rarely rise to high altitude and do not demand great stamina. This loop is one of three which start and finish at the Glenbarrow trailhead - key features include the bank of the spectacular River Barrow, a 3-tiered waterfall, the ruins of an old water mill, and broadleaf woodlands that, in late spring, are ablaze with bluebells.
Directions to Glenbarrow trailhead
Start from the village of Rosenallis on the R422 between Clonaslee and Mountmellick. On the sharp bend follow the signpost for route to Glenbarrow L2018. After 1.8 km take a right turn at a junction. After 2 km turn left at a crossroads. Note: the trailhead is signposted from Rosenallis (and Clonaslee).
Walk Sections
A-B Start from the trailhead at Glenbarrow Car Park and fo- llow the red arrow (and green and blue and orange arrows which are for other- loops)- onto a downhill track. You are also on - the Slieve Bloom Way (- marked with yellow arrows and trekking man). After 200m reach the end of the - downhill track and enter Glenbarrow Wood- s via wooden railings.-
B-C Continue along this path up rive- r for about 800m passing a- wooden hut on your left. You come to a lar- ge open area by the river where the - stone floor of the valley is exposed. Fo- llow the path up river and- you come to the Clamphole Falls.-
C-D Follow the path past the waterfa- ll for approximately 800m.-
D-E The path splits on a bend - the - blue loop follows the path around to the left and uphill and the red - loop follows river bank.
E-F Continue following the Red arrow- s along river bank for approximately 2km to the ruins of an old mill.-
F-G Leaving the mill behind, follow - the riverbank for another short distance before turning uphill (left) through newly planted forestry - and - joining forestry road, turn right here.-
G-H Follow the forestry road for 300m before turning left uphill past ruins of Clear's old house.-
H-I This road will take you to the Ridge of Capard. Follow Red arrows to viewing point. From here follow arrows downhill on boardwalk to - Ridge of Capard Carpark. Follow arrows to your left downhill for 100m and the turn right onto forestry road.
I-J Follow forestry road downhill for 300m veering right at 3-way junction.
J-K Follow forestry road uphill to a junction with a forestry road (on the Right). Here you turn left onto a narrow downhill boardwalk.
K-A Descend through coniferous forestry and natural woodland to a forestry road at a barrier. Turn right here, and enjoy the last 200m back to the trailhead at Glenbarrow Carpark.
Ensure that you follow the Red Arrows.