The Offaly Way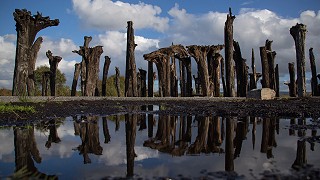 Distance: 38k/2days
Services: Cadamstown, Kilcormac
Trail Grade: Moderate
To suit: Appropriate for people with a moderate level of fitness.
Terrain: Mix of minor roads, sandy roadways and forestry tracks
Min. gear: Specific outdoor walking footwear and clothing is recommended.
Trail maintenance: Contact: hikeit@slievebloom.ie
Dogs allowed: No
The Offaly Way is a linear route of 38km linking the Slieve bloom Way (at Cadamstown) to the Sli Mor (at Lemanaghan) and crossing en-route the Grand Canal Way. It includes sections of riverbank, stretches of bogland, green mass paths and quiet country roadways. Much of the Offaly Way commands wide views over a comparatively flat landscape. As the route is mainly flat it is easy to moderate in difficulty and suitable for people of average level of fitness or higher. Waymarking consists of frequent marker posts with a motif of a walking figure and a directional arrow in yellow.
Dogs not permitted on any section which crosses private farmland.
Directions to Cadamstown trailhead
Cadamstown, historically called Ballymacadam, is a small village in County Offaly, Ireland. It lies on the R421 regional road, just north of the Slieve Bloom Mountains. It is about 20 km from Tullamore and 6 km from Kinnitty.
Dempseys pub is usually open in the evenings but unfortunately there is no tea shop in the village at the present time.
The Walks
Trailhead 1 – Cadamstown Carpark to Kilcormac ( Grid Ref. N 227 085)
Trailhead 2 – Kilcormac Riverside Park to Lough Boora Parklands (Grid Ref. N 185 141)
Trailhead 3 – Lough Boora Parkland to Turraun Wetlands (Grid Ref. N 182 189)
Trailhead 4 – Turraun Wetlands to Lemanaghan (Grid Ref. N 171 227)
Trailhead 5 – Lemanaghan (Grid Ref. N 170 270)
These maps are provided courtesy of IrishTrails.ie.
Important
Please observe the Leave no trace principles:
Plan ahead and prepare
Be considerate of others
Respect farm animals and wildlife
Travel and camp on durable ground
Leave what you find
Dispose of waste properly
Minimise the effects of fire.