Riverside Walk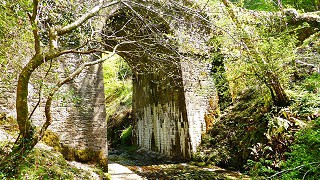 Distance: 1.5km / 30 mins
Services: Clonaslee (12km), Mountrath (11km)
Trail Grade: Moderate
To suit: Medium level of fitness
Terrain: Riverside path
Min. gear: Walking shoes, fluids
Trail Directions
Exit car park at Monicknew Trailhead. Cross the tar road. The route is clearly marked with blue arrows so you can enjoy this beautiful trail.
Follow the forest road, that meets the Slieve Bloom Way. After 500m turn left and follow the path to the Glen River, which meanders through the forest.
Cross the wooden footbridge and note the scattering of Sweet Chestnut trees. The bank of the pathway rises steeply towards the road, and in springtime it comes alive with bluebells and wood anemones.
Cross the next footbridge and enjoy a picnic by the river bank. Return to path and continue upstream under the Glen bridge.
Follow the path as it swings towards the carpark returning to Monicknew Trailhead.
Directions to Monicknew trailhead
Monicknew is about 11.5 km south of Clonaslee on the road to Mountrath via the Cut road. Coordinates: 53.0702 -7.5432.
This short 1.5km loop descends from the car park to the river bank and crosses under the Glen bridge. The walk is suitable for small children under supervision. There is a nice grassy area to relax down at the river, a favourite with kids during Summer! Along the riverside, you will see a variety of broadleaf trees and shrubs, typical of the semi - natural woodlands cover of such valleys. Native species to be seen include oak, ash, elm, hazel and holly , rowan and alder. The flora also includes woodrush, wood sorrel, foxglove and Gilderberry. Continue along the path under the bridge to bring you back to the car park.