Rickets Rock Loop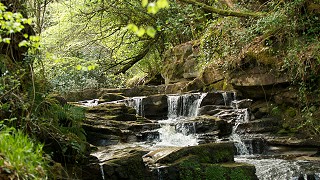 Distance: 4.5km / 1hr - 1.5hrs
Services: Clonaslee Village
Trail Grade: Moderate
To suit: All levels of fitness
Terrain: Mix of minor roads, sandy roadways & forestry tracks
Min. gear: Sturdy walking shoes, fluids
Trail maintenance: enquiries@slievebloom.ie
Dogs allowed: No
Trail Directions
A-B Start from the entrance to the forestry in Clonaslee Village. Walk into the village with the Clodiagh River on your right – after 200m turn right at the crossroads.
B-C Walk through the village passing the Heritage Centre (stone church building) on your left.
C-D After 400m turn right onto a minor road signposted Clonaslee Community Centre. Pass the community centre and school on the left as you exit the village.
D-E After 1km take a downhill right turn at a crossroads following the green arrow. The red loop which is longer and more challenging continues straight on here.
E-F After 500m continue straight as the tarred surface gives way to a sandy roadway.
F-G After 500m pass Ricket's Rock (stoney waterfall) on your right.
G-H After 200m, veer to the right at a 3-way junction on top of a hill.
H-J Continue for 1km to a T-junction where you veer right and, almost immediately turn left into forestry and on to a woodland trail.
J-K Follow the woodland trail for 500m to a wooden footbridge. Cross the footbridge and turn right onto a forestry track with the Clodiagh River on your right.
K-A After 300m you are back at the trailhead.
Directions to the Trailhead
From the bridge over the Clodiagh River in the village of Clonaslee (on the R422) follow the signpost for Glenkeen. The forest entrance is on your left after 200m.
Clonaslee is at the northern gateway to the Slieve Bloom Mountains. A picturesque village, founded in the 18th century, here lies the traditional seat of the O'Dunnes. Clonaslee lies on the famous Slí Dála or Munster Way.