Lost Village Loop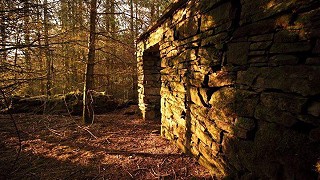 Distance: 6k/2.5hrs
Services: Clonaslee (10k)
Trail Grade: Moderate
To suit: Medium level of fitness
Terrain: Scenic Views, forest road
Min. gear: Sturdy walking boots, fluids
Trail maintenance: hikeit@slievebloom.ie
Dogs allowed: No
Right from mapboard, follow the green arrows uphill, turning right on to forest road. Crossing a stile, turn right after 200m downhill and take the next left. The first house ruins on your walk is the Conroy family's and the next one, on your right, is the Fitzpatrick household ruins.
Keep left after 200m and follow the green arrows for approximately 1km on your right by the River Barrow you will reach Gallagher's Mill site. Follow the green arrow by the river and turn uphill to the forest road, turn right here and take the next left. You are now in the Lost Village. You can see the photo of the Clear family on the gable end of the house. Continue following the green arrows onto the Bog Bridge to the Ridge of Capard viewing point and back to the car park. On your walk, you can stop and read the history of each family that lived here and reference index on map.
Thanks to Sean Flanagan, author, for his book on the history of the Lost Village.
Conroy Family
Fitzpatrick Household Ruins
Gallagher's Mill Site
Gallagher Family
Clear family
Doorley Family
Lalor Family
Conroy Family
Directions to Capard trailhead
Rosenallis on the R422 between Clonaslee and Mountmellick. On the sharp bend follow the signpost for Glenbarrow L2018. After 2km straight to next junction. After 2.5km turn right at a follow the signs to the Ridge of Capard Grid Reference: N 364 065.