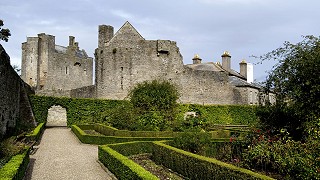 Consists of King John Castle (XII century) with the beautiful pre-Palladian Queen Anne style mansion, Damer House, in it's courtyard Also forming part of this heritage site, manager by the Office of Public Works, is the Black Mills, an interpretive centre that tells the story of Roscrea, and in particular it's long monastic tradition.
Located beside this centre is a Round Tower, a High Cross and a beautifully carved Hiberno-Romanesque doorway - all icons of an era when Ireland was to the forefront of knowledge and learning in Europe in the 11th & 12th centuries.
But that is not all! There is also the remains of a Franciscan Friary dating from the late 15th century in the town. And about 3 mile outside of town is Monaincha Abbey, also containing Hiberno-Romanesque doorwarys and an early example of an Irish High Cross. See the seperate entry on this site for Monaincha Abbey.
This monastic tradition continues in Roscrea to this day. A Cistercian Monastery, Mount St. Joseph's, was founded in the late 19th century about 2 miles outside of Roscrea. It welcomes visitors and is an island of tranquility in this modern world. See seperate entry.