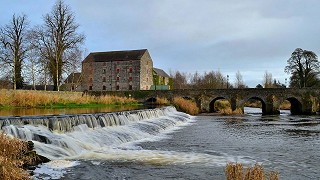 The castle from which this town takes it's name was built in the 13th century, it was taken by the Fitzpatrick family and burned to the ground in 1600 to prevent the English seizing control of it, the foundations and part of the walls remain.
The town itself lies on the banks of the Nore, set amongst peaceful green countryside, and is centered around a beautiful green. The town has won many awards over the years in the Tidy Towns Competitions, winning the overall National Title in 2002.
Today Castletown has been bypassed and is a tranquil village with a lovely setting of the River Nore where locals come to swim and cool off on hot summer days. Pictured above is the waterfalls in from of the Old Mill.